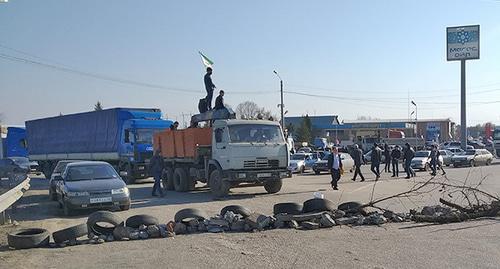 03 April 2019, 17:57
In Ingushetia, nine activists arrested within two days
During two days, in Ingushetia, three leaders of protests and six participants of a spontaneous rally on the "Caucasus" highway were sentenced to 10-day arrests.
The "Caucasian Knot" has reported that on April 2, the court arrested for 10 days four participants of the rally in the highway at the entrance to Nazran. Two persons were fined. Today, three leaders of the protest ‑ Akhmed Barakhoev, Malsag Uzhakhov, and Musa Malsagov ‑ have been sentenced to the 10-day arrests.
Timur Akiev, the head of the Human Rights Centre (HRC) "Memorial" office in Ingushetia, has associated the today's detentions and arrests of the activists with clashes between protestors and law enforcers on March 27. However, on the contrary, organizers of the rally tried to prevent clashes, the human rights defender noted.
This article was originally published on the Russian page of 24/7 Internet agency 'Caucasian Knot' on April 3, 2019 at 03:02 pm MSK. To access the full text of the article, click here.
Author: Oleg Krasnov Source: CK correspondent