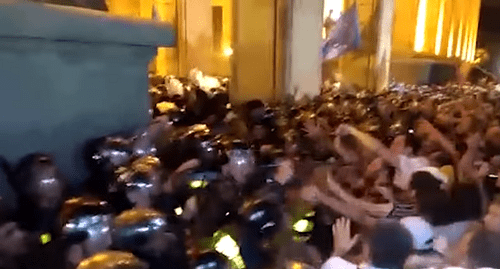 21 June 2019, 00:55
Tbilisi protesters demand resignation of MIA and SSS heads
The protest action began in Tbilisi on June 20, after at a sitting of the Parliamentary Assembly, held in the building of the Georgian Parliament, Sergey Gavrilov, a Russian State Duma MP, sat into the chair of the Speaker. This displeased some of the Georgian MPs; and they announced the start of the Speaker's impeachment procedure.
The MPs' protest was supported by Tbilisi activists. The Russian delegation decided to leave Georgia, but the protest continued: protesters demanded resignation of the heads of the Ministry of Internal Affairs (MIA) and the State Security Service (SSS), stating that if their demands were not met, they would enter the parliament building.
Protesters tried to break through the police cordon and enter the yard of the parliament building, after which a mass brawl broke out of them with policemen.
Several ambulances arrived at the place of the incident: according to preliminary information, as a result of the brawl and resulting jostle, there are victims on both sides. Policemen urged protesters to stop their aggressive actions and leave the territory in front of the parliament building, threatening to disperse the crowd.
The protesters obeyed and stopped trying to break into the yard of the parliament. Having stepped away from the police cordon, they continued the rally in front of the building.
This article was originally published on the Russian page of 24/7 Internet agency 'Caucasian Knot' on June 20, 2019 at 10:23 pm MSK. To access the full text of the article, click here.
Author: Inna Kukudzhanova Source: CK correspondent