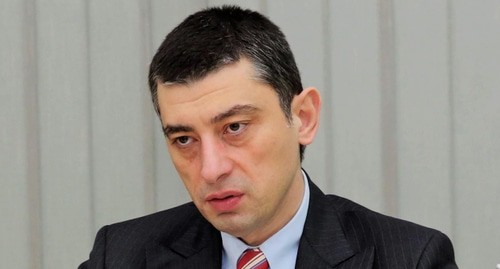 05 August 2019, 11:18
Adjara village rally demand resignation of head of Georgian MIA
During the visit of Mamuka Bakhtadze, the Georgian Premier, to village of Beshumi in Adjara, about a hundred persons held a rally demanding to dismiss Giorgi Gakhariya, the head of the Ministry of Internal Affairs (MIA). There was a skirmish of the participants of the rally and law enforcers.
The "Caucasian Knot" has reported that protests in Tbilisi began on June 20 after the Russian MP, Sergey Gavrilov, took the chair of the Speaker of the Georgian Parliament at a sitting of the Parliamentary Orthodox Assembly. This triggered protests of oppositional MOs, strengthened by their supporters. After dispersal of one of the protests, the Ministry of Public Health announced hospitalization of 240 persons. Meanwhile, protests continued; and their participants managed to achieve resignation of the Speaker of the Parliament and the holding the 2020 elections under the proportional system; they still insist on resignation of Giorgi Gakhariya, the head of the Ministry of Internal Affairs (MIA).
The Georgian Prime Minister, Mamuka Bakhtadze, arrived in the high-mountainous Adjarian village of Beshumi to participate in the events on the occasion of the Shuamtoba national holiday. Members of the oppositional "United National Movement" (UNM) Party organized a rally demanding Gakhariya's resignation. About a hundred people took part in the rally, the "News-Georgia" reported on August 4.
Policemen tried to disrupt the rally, and their clash with protesters broke out. Minor injuries were sustained by a minor, who was helped by doctors on the spot, the "Sputnik-Georgia" reports.
This article was originally published on the Russian page of 24/7 Internet agency 'Caucasian Knot' on August 5, 2019 at 00:58 am MSK. To access the full text of the article, click here.