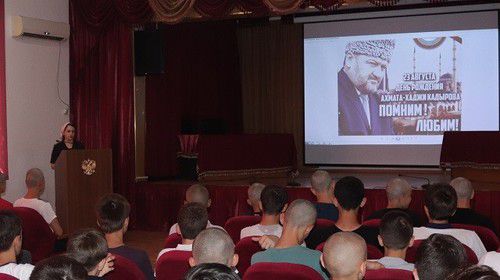 31 August 2019, 23:34
Military School in Grozny named after Akhmat Kadyrov
The head of the Russian Ministry of Internal Affairs (MIA) has ordered to name the Grozny Suvorov School after the first president of Chechnya, Akhmat Kadyrov. This was done in agreement with Ramzan Kadyrov, the incumbent head of the republic, said the school commander.
The "Caucasian Knot" has reported that shortly after the 68th birthday of the first president of Chechnya, Akhmat Kadyrov, on August 23, the Russian government approved the renaming of Ramzan Kadyrov's native village in the Kurchaloi District of Chechnya into Akhmat-Yurt. On August 29, a group of climbers set flags at the highest Chechen mountain peak, offering to name it in honour of Akhmat Kadyrov.
"We want to thank the head of Chechnya for allowing us to give the name of his father, a legendary person in the history of modern Russia, to our school," Lom-Ali Bakhaev, the school commander, said on the air of the "Grozny" TV Company.
Meanwhile, the school was named after Kadyrov earlier too, starting from September 2008, residents of Grozny have noted.
This article was originally published on the Russian page of 24/7 Internet agency 'Caucasian Knot' on August 31, 2019 at 12:48 pm MSK. To access the full text of the article, click here.
Source: CK correspondent