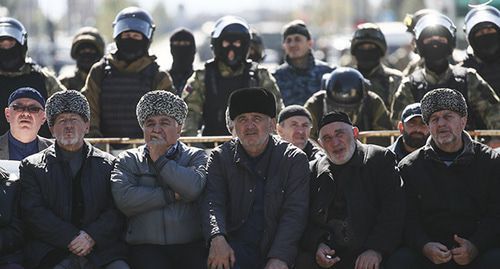 21 November 2019, 21:53
Advocates of Ingush activists claim legal "nihilism" of investigators
Criminal cases on the clash between protesters and law enforcers in Magas contain no specific facts, and the arrested persons are subjected to pressure, their advocates note.
The "Caucasian Knot" has reported that on March 26, residents of Ingushetia extended a protest action in a square in Magas without a sanction from the authorities, and that resulted in clashes with law enforcers on the other day. In early April, the Ingush police began to arrest oppositionists.
At present, 35 people are involved in the criminal cases on the clashes between participants of the March rally in Magas and law enforcers. Of them, 33 people are kept in custody, while one activist is wanted, and another is released under house arrest.
Alexei Miroshnichenko, an advocate of the leaders of the Ingush opposition, described the charge brought against them as "legal nihilism and legal ignorance." "The resolution on involvement of a person in a case as a defendant should take into account specific circumstances relating to a particular person. In our case, the resolutions on involvement of defendants in the cases literally repeat each other and do not contain any indications of specific acts," the advocate noted.
According to Alexei Miroshnichenko, the case on the rally held on March 27 "contradicts the law and the Constitution." "There was a provocation, and it was a controlled provocation. There is evidence showing that there were <law enforcers> in civilian clothes, and there are also other facts indicating that the people were provoked to use violence," said the advocate.
The defence suggests that the activists are being prosecuted in order to prevent large-scale protest actions in the future.
This article was originally published on the Russian page of 24/7 Internet agency 'Caucasian Knot' on November 21, 2019 at 07:12 pm MSK. To access the full text of the article, click here.
Author: Semyon Charny Source: CK correspondent