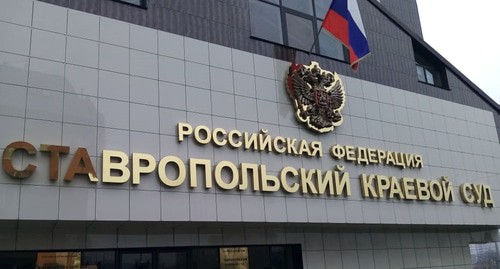 30 December 2019, 17:52
Court leaves Zarifa Sautieva in custody
Today, the Stavropol Territorial Court has dismissed an appeal filed by Ingush activist Zarifa Sautieva against the extension of her arrest until March 11, 2020. The activist announced her willingness to address the European Court of Human Rights (ECtHR).
The "Caucasian Knot" has reported that Zarifa Sautieva has been kept under arrest since July 15; she is charged with complicity in using violence against law enforcers in Magas. Zarifa Sautieva has become the first Ingush woman arrested for political reasons.
The today's hearing of the Stavropol Territorial Court was attended by Bilan Dzugaev, an advocate of Zarifa Sautieva, and a public prosecutor from the Prosecutor's Office for the Stavropol Territory, while Zarifa Sautieva took part in the court hearing via video conference. "I will seek the pronouncement of acquittal, even if I need to address the European Court. I'm not going to hide anywhere, and I feel responsible to everyone. <...> If you decide to change the pre-trial restriction measure, you will make a New Year's gift to all residents of Ingushetia," said Zarifa Sautieva during the pleadings in court. The activist asked the court to pronounce any form of pre-trial restriction measure not related to detention in custody.
After the decision of the Yessentuki City Court on extension of the arrest had been upheld, Zarifa Sautieva told the judge that she did not expect any other court's decision, the "Caucasian Knot" correspondent reported from the courtroom.
This article was originally published on the Russian page of 24/7 Internet agency 'Caucasian Knot' on December 30, 2019 at 12:34 pm MSK. To access the full text of the article, click here.
Author: Asya Kapaeva Source: CK correspondent