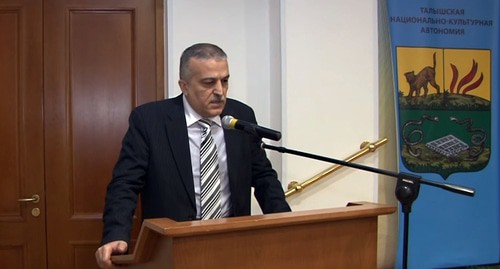 18 February 2020, 11:09
Rights defenders criticize sentence to Talysh activist Abbasov
In Azerbaijan, Fakhraddin Abbasov has been sentenced to 16 years in prison on charges of appealing against the integrity of the state, treason and incitement to hostility. The sentence cannot be called objective, human rights defenders assert.
The "Caucasian Knot" has reported that on July 14, 2018, a court in Baku ruled, in absentia, to arrest Abbasov; and in September 2018, he was detained at the request of Azerbaijan in the town of Lyubertsy near Moscow. Russia extradited Abbasov to Azerbaijan, where he was accused of appeals against the country's territorial integrity. Meanwhile, the rights defenders interviewed by the "Caucasian Knot" have stated that Abbasov had set the public opinion against himself by his anti-Azerbaijani statements.
Fakhraddin Aboszoda is one of the leaders of the Talysh national movement and of the Talysh-Mugan Republic in the early 1990s. In September 2018, he was arrested at the request of Azerbaijan in the town of Lyubertsy near Moscow.
On February 14, the Baku Court of Grave Crimes passed a verdict to Abbasov, finding him guilty under Articles 281.2 (public appeals directed against the state), 283.1 (incitement of ethnic, racial, social or religious hatred and enmity) and 274 (high treason) of the Criminal Code, and sentenced him to 16 years in prison.
On February 17, Ganga Ibragimov, Abbasov's advocate, confirmed the sentence to the "Caucasian Knot" correspondent. However, he stated that Abbasov refused to plead guilty on any of the indictment points.
According to Emin Guseinov, the executive director of the Institute for Reporters' Freedom and Safety (IRFS), Azerbaijani authorities, by having achieved Abbasov's extradition, have shown that they can reach any critic of the regime, even abroad.
This article was originally published on the Russian page of 24/7 Internet agency 'Caucasian Knot' on February 18, 2020 at 02:34 am MSK. To access the full text of the article, click here.
Author: Faik Medzhid Source: CK correspondent