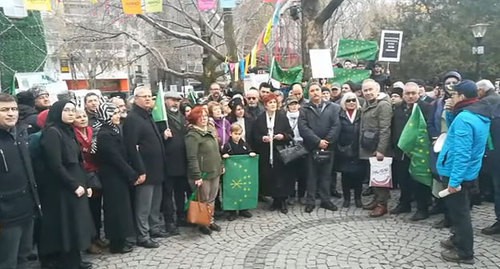 24 February 2020, 18:22
Circassian activists demand to recall Ambassador Alexei Erkhov from Turkey
On February 23, in Ankara and Istanbul, Circassian activists held protest actions with the demand to Russia to recall Ambassador Alexei Erkhov. The diplomat's apologies for his statements about allegedly voluntary resettlement of Circassians to Turkey during the Caucasian war are not credible, the protesters explain.
The "Caucasian Knot" has reported that the statements voiced by Alexei Erkhov, Russian Ambassador to Ankara, about the criminal way of life of Circassian natives and their voluntary resettlement from Northern Caucasus to Turkey as a result of the Caucasian war provoked indignation of the Federation of Caucasian Organizations of Turkey (known by its acronym in Turkish as KAFFED) and the Federation of Circassian Associations. Later, Alexei Erkhov apologized for his statement and emphasized that he did not want to offend the feelings of Circassian natives.
In Ankara, a protest action was held by the KAFFED, and in Istanbul by the Circassian organization "Chooldu Demokrasi Paarti". Members of the Circassian public organizations and the Circassian Diaspora in Turkey demanded from Russia to recall its Ambassador. The Circassian activists note that the Russian Ambassador's statements do not correspond to historical truth, the "Kavkaz.Realii" reports.
"We went to a protest action so that the whole world would know that the Circassian natives didn't leave their native lands, as Ambassador Erkhov noted, but they were forcibly evicted by the Russian Empire," said Faruk Aslandok, the head of the "Chooldu Demokrasi Paarti".
Let us remind you that the Circassian organizations demand from the Russian authorities to recognize the genocide of Circassian natives during the Caucasian war, after which most of the Circassians were forced to settle in more than 40 countries.
This article was originally published on the Russian page of 24/7 Internet agency 'Caucasian Knot' on February 24, 2020 at 10:35 am MSK. To access the full text of the article, click here.