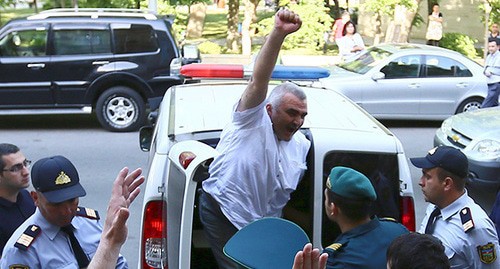 18 March 2020, 08:38
Journalist Afghan Mukhtarly early released in Azerbaijan
After being released from jail, the Azerbaijani journalist, Afghan Mukhtarly, has left for Germany, where his relatives live.
The "Caucasian Knot" has reported that in May 2017, Afghan Mukhtarly, who had earlier emigrated to Georgia, was kidnapped there and brought to Baku by force. In January 2018, a court sentenced him to six years in prison on charges of illegal border crossing, smuggling, and resistance to a state official.
The "Caucasian Knot" correspondent has learnt about Mukhtarly's release from prison from his wife, Leyla Mustafaeva, who lives in Germany.
"It all happened unexpectedly. I found out about Afghan's release from his advocate, Nemat Kerimli, who received a call from the German Embassy and was told that Afghan had been at large. I still couldn't reach him by phone. I don't even know on what grounds he was released," Ms Mustafaeva has explained.
According to her story, Mukhtarly was released and sent from Baku to Moscow, from where late in the evening on March 17 he was supposed to fly to Germany.
This article was originally published on the Russian page of 24/7 Internet agency 'Caucasian Knot' on March 17, 2020 at 07:57 pm MSK. To access the full text of the article, click here.
Author: Faik Medzhid Source: CK correspondent