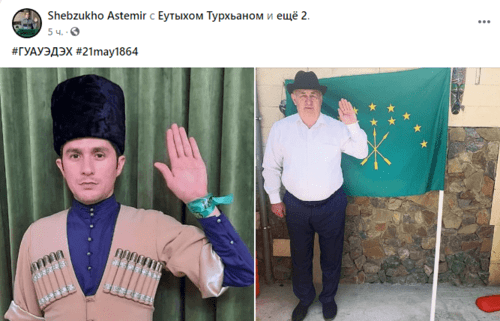 22 May 2020, 12:16
Russian authorities pull away from Circassians' repatriation problems
The appeal of Arsen Kanokov, the Senator from the Kabardino-Balkarian Republic (KBR), on the eve of the Remembrance and Sorrow Day for the victims of the Caucasian War is conceptual, but it is unlikely to help in solving the "Circassian issue", since it has been ignored by federal authorities in recent years, historians believe.
The "Caucasian Knot" has reported that on the initiative of KBR Circassian activists, on the Memorial Day of the victims of the Caucasian War, Facebook and Instagram users posted their photos with their left hands raised.
Arsen Kanokov, a member of the Federation Council (a Senator) from the KBR, has recalled that 90% of Circassians became victims of the Russian-Caucasian War of 1763-1864.
Many Circassian politicians and activists believe, like Senator Kanokov, that repatriation will not take a massive scale, Fatima Ozova, a historian, has noted. According to her story, a particular misunderstanding is caused by rejections of repatriation requests from Syrian Circassians.
Senator Kanokov's appeal will not seriously affect the solution of the repatriation issue of Circassians, although it is perhaps the first statement at such a high level, Zaurbek Kozhev, a historian, believes.
Aslan Beshto, one of the organizers of the flash mob in social networks for the Remembrance Day for the victims of the Caucasian War, has noted that this day, as the highest point of people's grief, can be comforted only by holding this event together.
This article was originally published on the Russian page of 24/7 Internet agency 'Caucasian Knot' on May 21, 2020 at 11:34 pm MSK. To access the full text of the article, click here.
Author: Gor Alexanyan Source: CK correspondent