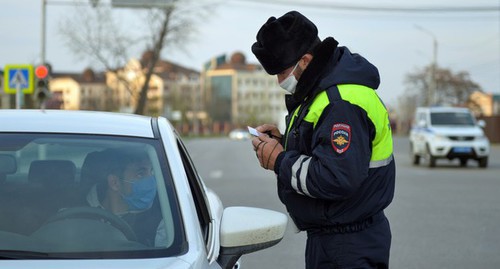 01 June 2020, 11:04
Residents of Chechnya complain about police checks related to coronavirus
Residents of Chechnya have received an audio message on the WhatsApp, whose author announced the tightening of police checks in connection with the measures to counter coronavirus. According to their story, law enforcers demand from people to wear medical masks even in the street.
The "Caucasian Knot" has reported that on May 26, Magomed Daudov, the Speaker of the Chechen Parliament, reported that the epidemiological situation had been normalizing, but the self-isolation regime should be maintained. Residents of Chechnya were indignant at the uncertainty of the situation and complained about financial difficulties due to the quarantine.
"People are allowed to go out only for two hours and only with permits and in medical masks. If one has no mask on, he/she is taken to a police station and be severely fined," the author of the WhatsApp message has stated. According to his version, "they wouldn't let cars out at all."
Residents of Chechnya speak against the control tightening in their republic.
"Even if you go out to buy bread, they demand a permit ... If I had an opportunity to leave somewhere, I would leave without any regret," Iman, a local woman, has complained.
"As far as I know, wearing masks are mandatory only indoors or in crowded places. Yesterday, a policeman found fault with me because I was walking along the street without a mask ... It's good that I know the head of their police department. I threatened to complain to him, and the policeman let me go," said Rosa, another woman from Grozny.
"They've kept us under quarantine for more than two months; they promised to soften the regime, but they are only toughening it up," Isa, a local resident, was indignant.
According to Ruslan Kutaev, the president of the Assembly of Caucasian Nations, residents of Chechnya are "sick and tired of being afraid" of violating the stringent restrictions imposed in the republic.
This article was originally published on the Russian page of 24/7 Internet agency 'Caucasian Knot' on May 31, 2020 at 05:00 am MSK. To access the full text of the article, click here.
Source: CK correspondents