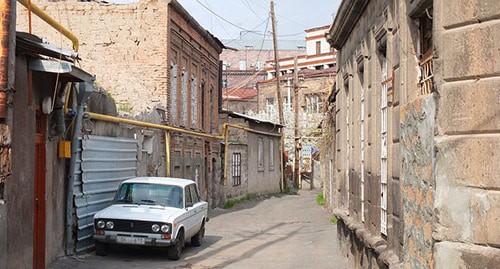 11 June 2020, 18:42
In Yerevan, demolition of historical building provokes protests of local residents
More than 30 people took part in a protest rally in the centre of Yerevan after a private company had attempted to demolish a historic building near the territory of the former "Firdusi" market.
The "Caucasian Knot" has reported that in 2017, in Yerevan, the authorities dismantled a market located in the centre of the city in Firdusi Street. It is planned to build a residential quarter on the place of the former market and the adjacent territory.
In the centre of Yerevan, more than 30 local residents came out to a protest action after on June 10, a private company began to demolish a building in Anrapetutyan Street, near the former "Firdusi" clothing market. According to the activists, the old building was an object of historical and cultural heritage. Residents of neighbouring houses took part in the protest action, the "Caucasian Knot" correspondent reported.
Part of the building was demolished several days ago, said cultural expert Tigran Amiryan. "One building has already been completely demolished. We could not do anything. This morning, they began to demolish the other house. For the second day, we have been demanding from the developers to present a permission to demolish the houses. And for the second day, we hear from them that they have necessary documents, but the permission is just not at hand now," Tigran Amiryan told the "Caucasian Knot" correspondent.
This article was originally published on the Russian page of 24/7 Internet agency 'Caucasian Knot' on June 11, 2020 at 01:50 pm MSK. To access the full text of the article, click here.
Author: Armine Martirosyan Source: CK correspondent