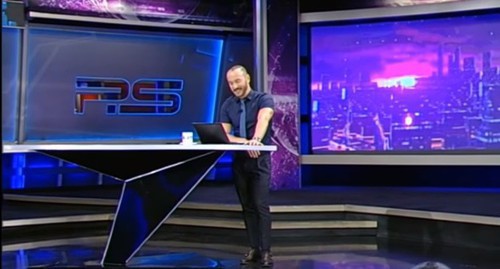 24 June 2020, 14:46
Analysts dispute about Georgian residents' support of Gabuniya's statements
The political analysts interviewed by the "Caucasian Knot" differed in their opinions about the support of Gabuniya's statements by residents of Georgia.
The "Caucasian Knot" has reported that in July 2019 Giorgi Gabuniya spoke obscenely about Russian President Vladimir Putin on air of the "Rustavi-2" TV Channel. Then, the head of Chechnya, Ramzan Kadyrov, reacted to this, saying that top Georgian officials must apologize to Putin and Russia. He also expressed threats against the Georgian journalist.  On June 21, 2020, Gabuniya again addressed Vladimir Putin in the Russian language by using rude expressions.
Giorgi Gabuniya's statements are unacceptable, and if they find support, then by very few people, Zaal Andjaparidze, a political analyst, told the "Caucasian Knot" correspondent.
"Even among supporters of the 'Unified National Movement' (UNM) Party, who, according to opinion polls, make just over 10 percent, not all are supporting Gabuniya," Mr Andjaparidze has stated.
When asked whether veterans of the 2008 five-day war and refugees from Abkhazia and South Ossetia were supporting Gabuniya, Zaal Andjaparidze answered in the negative.
"I met these people; none of them supports Gabuniya's statement," Zaal Andjaparidze has concluded.
Nika Chitadze, the head of the Centre for Studying Security and International Relations, has noted, on the contrary, that Gabuniya's statement had triggered sympathy among refugees and military servicemen.
"Naturally, people who saw firsthand the war, who suffered bombings, saw deaths and survived the massacre, and in one way or another suffered from the occupation, have a strong emotional aversion to Putin and Russian authorities," Mr Chitadze told the "Caucasian Knot" correspondent.
This article was originally published on the Russian page of 24/7 Internet agency 'Caucasian Knot' on June 24, 2020 at 08:14 am MSK. To access the full text of the article, click here.