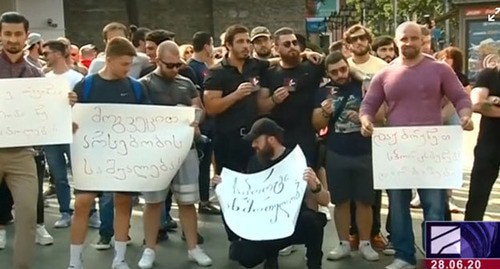 29 June 2020, 21:17
In Tbilisi, participants of protest march demand to open gyms
Coaches, bodybuilders, and owners of fitness clubs held a protest action. They demanded from the Georgian authorities to allow the operation of gyms closed because of the coronavirus epidemic and to soften the rules for their opening.
The "Caucasian Knot" has reported that on May 23, the Georgian authorities decided to cancel the state of emergency imposed in connection with the coronavirus epidemic, and some restrictions were lifted.
By June 28, the number of coronavirus infection cases reached 924 in Georgia, and 15 people died, the "StopCoV" website reports.
"We have been waiting during four months already ... It is unacceptable for us to reduce by half the number of fitness machines and to set up barriers between them in gyms," claimed at the protest action Giorgi Vasadze, the director of the "Fit Line" gym, as quoted by the "News-Georgia".
Earlier, a protest action with the demand to open gyms was held on June 11.
"We want to follow a healthy lifestyle. And we want to be given the opportunity to train in gyms," the "Sputnik-Georgia" quoted Giorgi Vasadze as saying.
So far, meetings of more than 10 people and cultural and sports events have been still banned in Georgia, and people are still obliged to wear masks in closed public places. The restrictions are in force until July 15, the "Echo of the Caucasus" reports.
It should be added that on June 20, at a protest action in Tbilisi, employees of the event industry demanded to soften the regime of self-isolation in the country.
This article was originally published on the Russian page of 24/7 Internet agency 'Caucasian Knot' on June 29, 2020 at 08:07 am MSK. To access the full text of the article, click here.