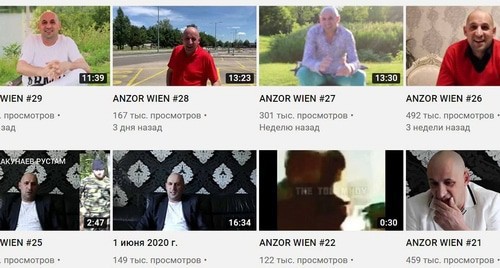 06 July 2020, 10:18
Anzor from Vienna criticized Kadyrov in style of murdered blogger Mansur Stary
Mamikhan Umarov, whose murder in Vienna on July 4 was reported by sources, became famous for his harsh criticism and insults to the head of Chechnya, Ramzan Kadyrov, his relatives and his adviser Shaa Turlaev. A similar style of criticizing Kadyrov was used by Mansur Stary, the blogger assassinated in France.
The "Caucasian Knot" has reported that Mamikhan Umarov, a native of Chechnya, was shot dead in Vienna on July 4.
Mamikhan Umarov was born in 1977 in Argun, and since 2005 he lived in Austria with documents to the name of Beck Martin. Since 2008, he collaborated with Austrian special services, received orders for organizing murders in Europe, Turkey and other countries, including Adam Osmaev and Amina Okueva in Ukraine; this follows from Umarov's interview with the Ukrainian "Free Channel" of February 3, 2020.
Umarov ran the "Anzor Tscharto Beck Martin" on the YouTube. In his videos, the blogger openly criticized and insulted Ramzan Kadyrov and his parents with the use of uncontrolled vocabulary. There is also a video criticizing and insulting Shaa Turlaev, the former leader of Chechen separatists, who then became Ramzan Kadyrov's adviser.
The last but one video of the "Anzor Tscharto Beck Martin" channel dated July 2 was posted by the "Tvjihad" Telegram channel, by entitling it as the "Video of the Chechen blogger 'Anzor' murdered in Vienna". "What a style, what a speech manner, not worse than that of Mansur Stary, who perished in the 'Daring Cock' Hotel," says the annotation to the video.
Imran Aliev, a native of Chechnya, known as blogger "Mansur Stary", was killed in the French city of Lille in January 2020, adding to the death toll of Kadyrov's critics liquidated in Europe.
This article was originally published on the Russian page of 24/7 Internet agency 'Caucasian Knot' on July 05, 2020 at 03:26 pm MSK. To access the full text of the article, click here.