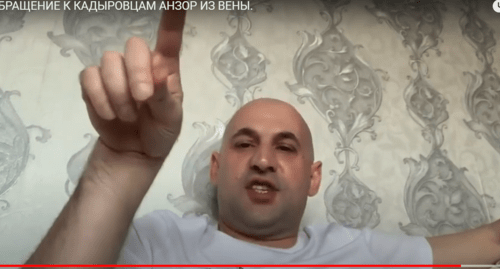 08 July 2020, 13:51
Umarov, Mamikhan Mukhadievich (Anzor)
A Chechen refugee in Austria and a harsh Kadyrov's critic; a former investigator of the Ministry of Internal Affairs (MIA), who collaborated with special services; was assassinated in Vienna on July 4, 2020.
Murder
Close to Brunnerstrasse in Gerasdorf, not far from Vienna (Korneuburg District) at 7:30 p.m. local time on Saturday evening, on July 4, 2020, near the G3 Shopping Centre, a murder was committed. A man shot dead another man by a shot in his head.
The suspect was stopped in Linz; he rendered no resistance and was detained after a search. According to various sources, the casualty was a Chechen, Mamikhan (Anzor) Umarov, who lived in Vienna. The detained suspect was also a Chechen. Later, another Chechen was detained, who was initially interrogated as a witness.
Blogger versus Kadyrov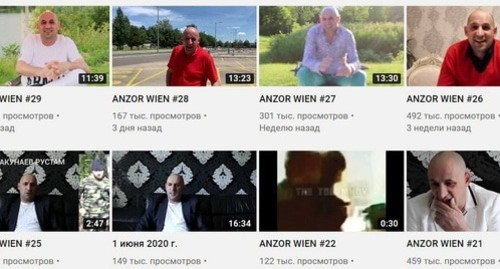 Umarov was running the "Anzor Tscharto Beck Martin" channel on the YouTube. The first video clip of the channel was dated April 9, 2020, and the last – July 3. In total, 30 video clips were posted there. As of July 5, 2020, the channel had over 12,000 subscribers. The popularity of Umarov's clips ranges from 100 to 500 thousand pageviews.
In his videos, the blogger openly criticized and insulted Ramzan Kadyrov and his parents by using uncontrolled vocabulary. There is also a video criticizing and insulting Shaa Turlaev, a former leader of Chechen separatists, who then became Ramzan Kadyrov's adviser. A similar style of criticizing Kadyrov was used by another blogger, Mansur Stary, who was killed in France.
Imran Aliev, a native of Chechnya, known as the blogger Mansur Stary, was assassinated in the French city of Lille in January 2020, adding to the death toll of critics of the head of Chechnya murdered in Europe. Imran Aliev, like Mamikhan Umarov, insulted personally Kadyrov and his entourage by using uncontrolled vocabulary (foul language).
How Umarov became famous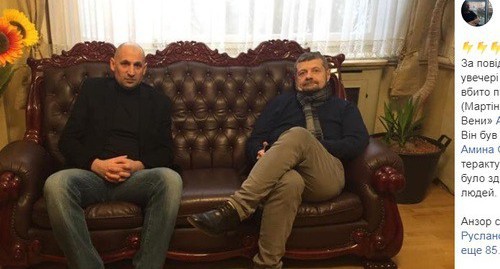 Mamikhan Umarov was first talked about in 2018, when he contacted the Ukrainian MP, Igor Mosiychuk, and told him that he had received an order from Shaa Turlaev to commit three murders: a Chechen Adam Osmaev, his wife Amina Okueva (nee Nikifirova) and the MP Mosiychuk himself.
The car with Adam Osmaev and his wife Amina Okueva was shelled near Kiev on October 30, 2017. Okueva died, and Osmaev was wounded. Adam Osmaev was a well-known Ramzan Kadyrov's opponent.
It turned out that since 2008, Umarov had collaborated with Austrian special services; since he received orders to organize murders in Europe, Turkey and other countries. On the assassination attempts on Osmaev, Okueva and Mosiychuk, Umarov gave detailed testimonies to the SBU (Security Service of Ukraine) and Ukrainian counterintelligence service. In particular, he handed over records of telephone conversations with Shaa Turlaev and a man, whose voice the Ukrainian special services identified as the voice of Adam Delimkhanov, a Russian State Duma MP.
Biography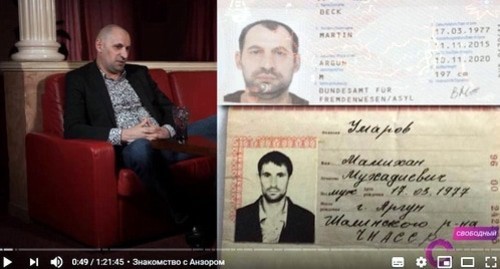 Umarov, Mamikhan Mukhadievich, was born in 1977 in the city of Argun, Shali District of the Chechen Soviet Republic. In Chechnya, since 1998, he worked for the Ministry of Internal Affairs (MIA) as an investigator. He called himself a former employee of the Ministry of Sharia State Security Service of the separatist Republic of Ichkeria.
Since 2005, he lived in Austria under the documents in the name of Beck Martin. In 2007, he received a refugee status. According to his story, he left Chechnya because "after they had killed the major field commanders, they (the authorities) began finding new victims who had once worked under Ichkeria. They persecuted everybody."
This article was originally published on the Russian page of 24/7 Internet agency 'Caucasian Knot' on July 6, 2020 at 01:47 pm MSK. To access the full text of the article, click here.