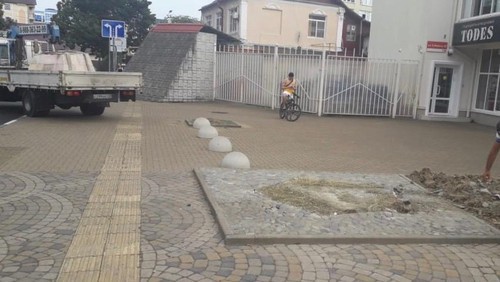 09 July 2020, 08:39
Circassian activists achieve demolition of monument to Russian soldiers in Adler
By a decision of the Sochi Mayoralty, a monument to the participants of the Caucasian War, which was opposed by signatories of the appeal to the authorities, has been dismantled, Madjid Chachukh, a Circassian activist, has informed.
The "Caucasian Knot" has reported that a memorial sign was set up in Sochi in the place of a fort built by Russian troops in 1837 during the Caucasian War. Historians and Circassian activists have criticized the installation of the sign, pointing out that the mentioning of terrible events of the Caucasian War is painful for the Circassian people and splits the society.
The Caucasian War lasted from 1763 to 1864 and put the Adyg nations on the brink of extinction. After the war and mass deportation of Adygs (Circassians) to the Ottoman Empire, a little more than 50,000 of them remained in the homeland. Circassian organizations demand from Russian authorities to recognize the Circassians' genocide during the Caucasian War.
Madjid Chachukh, who is also the chairman of the Krasnodar Territorial NGO "Adyge Khase of the Black Sea Adygs-Shapsugs", told the "Caucasian Knot" correspondent that on July 8 he was at a meeting in the Sochi Mayoralty, where he was officially informed about the dismantling of the new monument-sign. "The authorities recognized that it was set up without the necessary approvals, with very big mistakes, without discussion with representatives of the indigenous nation. I think the topic has been exhausted. There was such a public outcry, it all reached the highest level; there were appeals from the International Circassian Organization; the issue was discussed at federal levels of power; and the city Mayor has agreed that the issue of installing the monument had not been fully considered, and decided to dismantle the monument," Mr Chachukh said.
This article was originally published on the Russian page of 24/7 Internet agency 'Caucasian Knot' on July 8, 2020 at 08:25 pm MSK. To access the full text of the article, click here.
Author: Anna Gritsevich Source: CK correspondent