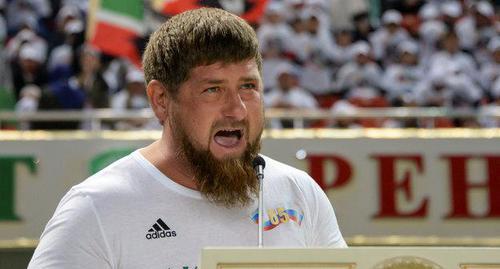 10 July 2020, 08:49
Kadyrov accuses western special services of killing his critics
Western special services have organized the killings of bloggers Mamikhan Umarov and Imran Aliev in order to impose responsibility for these crimes on the Chechen leadership, Ramzan Kadyrov has stated.
The "Caucasian Knot" has reported that two natives of Chechnya who have been living in Europe with refugee status for more than 15 years are arrested in Austria on suspicion of involvement in the murder of blogger Mamikhan Umarov.
Mamikhan Umarov, a native of Chechnya, also known as "Anzor from Vienna", was killed in Vienna on July 4. In his videos, the blogger openly criticized and repeatedly insulted Ramzan Kadyrov and his parents by using the uncontrolled vocabulary.
Imran Aliev, a native of Chechnya, known as the blogger Mansur Stary, was assassinated in the French city of Lille in January 2020. Imran Aliev, like Mamikhan Umarov, insulted personally Kadyrov and his entourage by using foul language.
Ramzan Kadyrov has claimed the "bias of the information machine," which "has promoted the version" of his involvement in the assassination of Umarov.
"Both Anzor from Vienna, and Mansur Stary, and other bloggers who make money on the idea of pseudo-patriotism, have and will become victims of special services working against Russia and, in particular, against me. They know that the Caucasian borders of Russia are protected by me and my faithful team. They don't like it <...> I knew that these puppets would end their lives just like that. Once human rights defenders start 'worrying' about someone's life, it soon ends," Kadyrov has written in his page on the VKontakte social network.
Let us remind you that back in 2016, Ramzan Kadyrov voiced out threats against his compatriots living abroad. "We have data on each of you; and we know who you are ... We know where you are writing from; and you are all in our hands. And therefore, don't harm yourself," the "Translation Service from the Caucasian Languages" has quoted the head of Chechnya as saying.
This article was originally published on the Russian page of 24/7 Internet agency 'Caucasian Knot' on July 9, 2020 at 09:57 pm MSK. To access the full text of the article, click here.
Source: CK correspondent