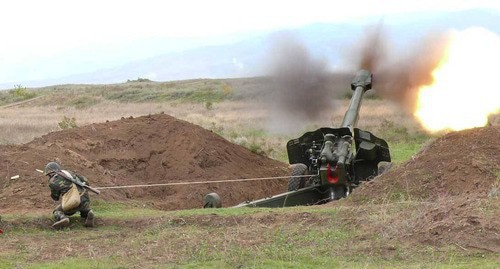 14 July 2020, 15:41
UN and USA call on Armenia and Azerbaijan to stop warfare
António Guterres, the UN Secretary General, has called on the Armenian and Azerbaijani authorities to stop military clashes. The USA has also condemned the violence on the countries' mutual border.
The "Caucasian Knot" has reported that in the Nagorno-Karabakh Republic (NKR), about 200 people have responded to the call to join the volunteers' detachment to be sent to the Tavush Region of Armenia.
On July 12, a fight occurred on the border of the Tovuz District of Azerbaijan and the Tavush Region of Armenia, in which three Azerbaijani soldiers perished. On July 14, the Azerbaijani Ministry of Defence (MoD) announced new fights and the death of the fourth soldier.
António Guterres, the UN Secretary General, has urged the authorities of Armenia and Azerbaijan to stop armed clashes in the conflict zone, as stated by Stéphane Dujarric, the spokesman of the UN Secretary General. Mr Guterres has supported the Co-Chairs of the OSCE Minsk Group, who condemned the ceasefire violations committed by Armenia and Azerbaijan.
"We urge the parties to cease the use of force ... and observe the ceasefire. The USA is ready to help in achieving a long-term peaceful settlement," Morgan Ortagus, the spokesperson for the US State Department, wrote on the Twitter.
This article was originally published on the Russian page of 24/7 Internet agency 'Caucasian Knot' on July 14, 2020 at 09:51 am MSK. To access the full text of the article, click here.