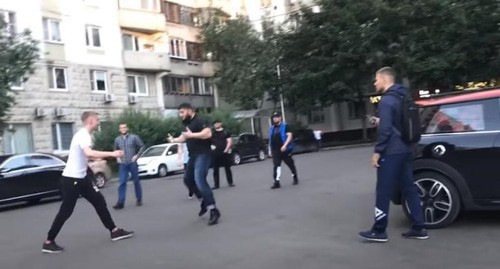 15 July 2020, 11:59
Chechen authorities' promises to punish blogger Zelimkhanov questioned
The statements about a severe punishment of the Chechen blogger, Zelimkhan Zelimkhanov, for assaulting his opponent, Svyatoslav Kovalenko, may turn out into mere words. Whether Zelimkhanov will be punished depends on how close he is to Kadyrov, Ruslan Kutaev, the president of the Assembly of Caucasian Nations, believes. It is not excluded that, finally, Kovalenko himself will be declared guilty, Svetlana Gannushkina, a human rights defender, has warned.
The "Caucasian Knot" has reported that on July 12, the Moscow blogger, Svyatoslav Kovalenko, stated that he had been beaten up by a group of people after his conflict with his Chechen colleague, who became famous for compelling to apologies. After Akhmed Dudaev, an assistant to Ramzan Kadyrov, promised that the Chechen authorities would help to punish those in charge, Zelimkhanov apologized to Ramzan Kadyrov and Svyatoslav Kovalenko.
Those who attacked Kovalenko can be punished if Kadyrov has a negative attitude to this situation, Svetlana Gannushkina, the chair of the "Civil Assistance" Committee, believes.
Ruslan Kutaev, the President of the Assembly of Caucasian Nations, does not exclude that Kovalenko can also be punished, since "he behaved quite aggressively and provoked a conflict."
According to Kovalenko, his conflict with the Chechen blogger began after Zelimkhan ridiculed Kovalenko live on air.
This article was originally published on the Russian page of 24/7 Internet agency 'Caucasian Knot' on July 15, 2020 at 04:05 am MSK. To access the full text of the article, click here.
Author: Gor Alexanyan Source: CK correspondent