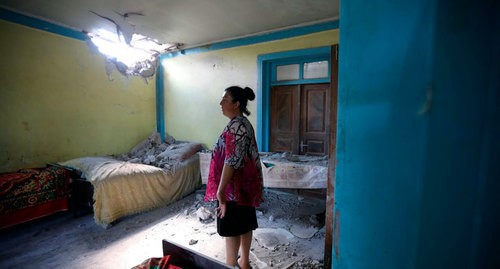 16 July 2020, 17:32
Azerbaijan declares resumption of warfare on Armenian border
Armenian militaries tried to attack Azerbaijani positions by shelling the villages of the Tovuz District with large-calibre weapons and mortars, the Azerbaijani Ministry of Defence (MoD) has stated.
The "Caucasian Knot" has reported that the situation on the border of the Tovuz District of Azerbaijan with the Tavush Region of Armenia escalated on July 12. On both sides, 40 people were killed and wounded. On July 15, the Armenian MoD announced a decline in the escalation. The municipal councils of Azerbaijani border villages also announced stabilization of the situation.
According to the Armenian side, the situation on the border worsened after Azerbaijan's attempt to break through the border. In its turn, the Azerbaijani MoD claims that the conflict escalated after the attempt of Armenian militaries to launch an attack.
According to Baku, the villages of Agdam, Dondar Guschu and Vakhidli of the Tovuz District were shelled; there were no victims among the civilian population.
This article was originally published on the Russian page of 24/7 Internet agency 'Caucasian Knot' on July 16, 2020 at 08:18 am MSK. To access the full text of the article, click here.
Author: Faik Medjid Source: CK correspondent