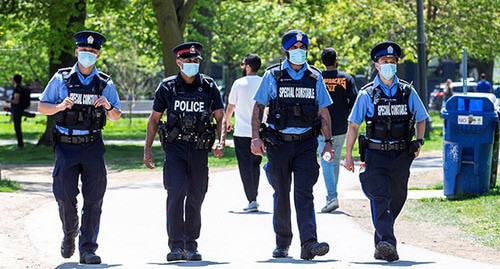 03 August 2020, 18:25
Armenians attack citizens of Azerbaijan, Canadian Diaspora claims
On August 2, the Azerbaijani Canadian Association announced that natives of Armenia took part in an attack on Azerbaijani citizens in Toronto. Two persons were injured during the clash, and one of them was hospitalized, the Embassy of Azerbaijan reported.
The "Caucasian Knot" has reported that the Consulate General of Azerbaijan in the USA claimed that a policeman and seven Azerbaijanis suffered at a protest rally against the aggravation of the conflict on the Armenian-Azerbaijani border held in Los Angeles on July 21. On July 22, during an action in Belgium, the territory of the diplomatic missions and the members of the Azerbaijani community who gathered there were attacked and beaten with stones.
At night on August 1-2, in Toronto, two citizens of Azerbaijan who were travelling in a car were attacked. The attackers were also travelling in cars, and they had cold arms, a pneumatic pistol, and baseball bats with them, claimed the Azerbaijani Canadian Association as quoted by the "Report" news agency on August 2.
"As a result of the incident, an Azerbaijani citizen was injured to his leg, and he received medical assistance," the APA news agency quoted the Azerbaijani Canadian Association as claiming. Besides, the car of the Azerbaijani citizens was seriously damaged. The Canadian police arrived at the scene, the Azerbaijani Canadian Association reported.
In its statement, the Azerbaijani Canadian Association also claims that the attack was committed by citizens of Armenia.
The both citizens of Azerbaijan were injured, one of them was hospitalized, and the injured man stays in stable condition, the "Haqqin.az" reports with reference to the Embassy of Azerbaijan in Canada.
This article was originally published on the Russian page of 24/7 Internet agency 'Caucasian Knot' on August 3, 2020 at 08:37 am MSK. To access the full text of the article, click here.