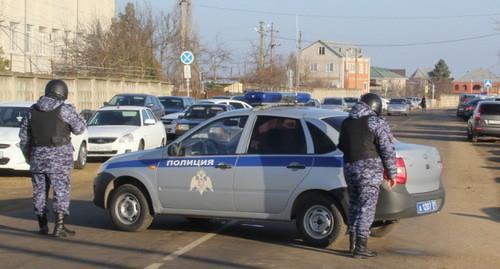 20 August 2020, 10:31
Absence of publicity gives rise to distrust of results of special operations in Dagestan
Dagestani law enforcement bodies provide the population with insufficient information on the ongoing special operations and the involvement of the accused in terrorism, the analysts interviewed by the "Caucasian Knot" believe.
The "Caucasian Knot" has reported that on August 16, in Dagestan, five teenagers were detained, who, according to the FSB, had planned attacks on policemen. Law enforcers have spread a video with one of the detainees, in which he admitted that the aim of their grouping was "to establish the Sharia law."
The detention of the teens suspected of participating in the "Islamic State" (IS, a terrorist organization banned in Russia by the court) is quite unique for the region, Khadjimurat Sagitov, the editor-in-chief of the "Novoye Delo" newspaper, believes. "Earlier, such special actions were held with liquidation of militants; perhaps, now, due to their age an attempt was made to simply detain them. But it is difficult to judge the seriousness of their intentions," Mr Sagitov told the "Caucasian Knot" correspondent.
The absence of proofs when local residents are charged with terrorism leads to an increase of people's distrust to law enforcers, said Idris Yusupov, a journalist from the "Novoye Delo". "This is confirmed not only by the Gasanguseinovs' case, which lasts for more than three years, but also by other cases, for instance by the case of Abdulmumin Gadjiev, where there are very big questions to investigators," he said.
Magomed Magomedov, a deputy editor-in-chief of the "Chernovik" (Draft) weekly, agrees with him. "The society needs objective proofs, not hidden witnesses and not confessions to the camera; people have long been distrusting these proofs. There's no problem forcing a person to say what is needed to the camera," Mr Magomedov has emphasized.
This article was originally published on the Russian page of 24/7 Internet agency 'Caucasian Knot' on August 20, 2020 at 04:40 am MSK. To access the full text of the article, click here.
Author: Magomed Tuayev Source: CK correspondent