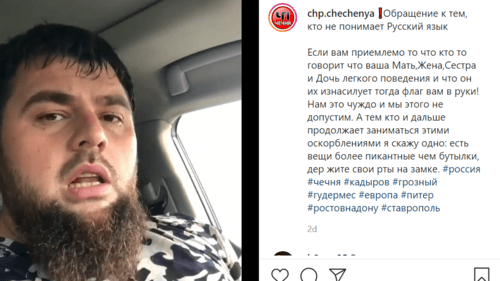 12 September 2020, 07:21
Chechnya: marketplace director threatens to repeat bottle torture
Salman Tepsurkaev was deservedly humiliated for insulting women; such antics will be monitored and punished in the same way or even more severely, Said Chubaev, the director of the marketplace in Oiskhar, stated in his video appeal. Instagram users criticized Chubaev and suggested that the video had been recorded in view of some expensive gift from the authorities.
The "Caucasian Knot" has reported that the video, in which a naked man sits on a bottle, explaining that he was doing this as punishment for cooperating with the oppositional 1ADAT Telegram Channel, triggered broad resonance in Chechnya. In two later videos, Tepsurkaev said that he was "handed over" to special services, and explained his self-humiliation by the threat of death.
According to Tepsurkaev, he was punished for "writing offensive verses about other people's mothers and sisters, saying that they were prostitutes."
According to the "Info24", the author of the above video appeal is Said Chubaev, director of a marketplace in Chechnya.
Many readers of the public in the "VKontakte" social network have spoken out categorically against cruel humiliations. "You disgrace your people yourself. Muslims wouldn't place their own people or strangers on the bottle," the user roza_04_04 wrote, in particular.
Some commentators supported Chubaev. "He said it right; what right does anyone have to insult other people's mothers, sisters and families in general? Nobody has the right to touch other people's women!" the user moscow_london_ has written.
Let us note here that Tepsurkaev himself has justified his self-humiliation by Chechen Adats (customs). However, Sergey Arutyunov, a historian, believes that the torture of Tepsurkaev has nothing to do with Chechen Adats.
This article was originally published on the Russian page of 24/7 Internet agency 'Caucasian Knot' on September 11, 2020 at 09:20 pm MSK. To access the full text of the article, click here.