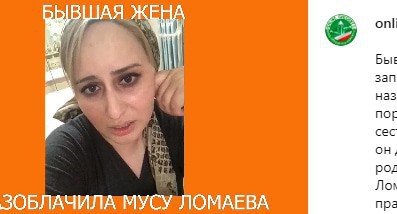 24 September 2020, 18:21
Former wife claims blogger Musa Lomaev has no right to criticize Chechen authorities
Blogger Musa Lomaev, who left for Finland after subjected to torture, does not care about his relatives who live in Chechnya and has no moral right to criticize the republic's authorities, his former wife says in a video appeal. It is unacceptable for a woman to criticize her former husband, Instagram users emphasize.
The "Caucasian Knot" has reported Musa Lomaev announced that a man suspected of an attempt on his life was detained on September 10. Musa Lomaev was provided with bodyguards. Meanwhile, for the course of the investigation, law enforcers limited his activity on a YouTube channel, in which the blogger criticized the authorities of Chechnya.
In the video appeal to Musa Lomaev posted on Instagram, a woman, allegedly his former wife, complains that the blogger does not answer calls. The woman voices personal grievances and accuses her former husband of ingratitude towards the authorities of Chechnya.
"He took my children away from me and transported them abroad ... The authorities helped your mother well: they gave her an apartment and a pension," the woman said.
User patriot9524 suggested that the video appeal had been recorded under pressure. In their comments, other Instagram users treated public criticism by the woman of her former husband as a shame.
It should be noted that residents of Chechnya have repeatedly criticized in public their relatives who expressed opposition views. The father of Salman Tepsurkaev, a former moderator of the "1Adat" Telegram channel, said that he had renounced his son who had left the republic.
This article was originally published on the Russian page of 24/7 Internet agency 'Caucasian Knot' on September 24, 2020 at 01:40 pm MSK. To access the full text of the article, click here.
Source: CK correspondent