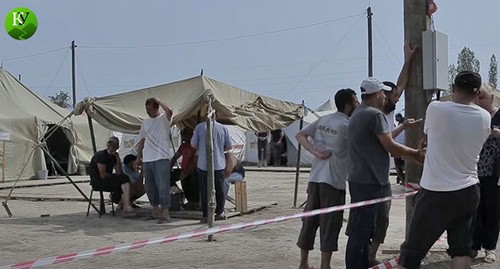 30 September 2020, 08:27
Azerbaijanis' departure to homeland from Kullar cancelled due to hostilities
In connection with the warfare in the Karabakh conflict zone, another cross-border travel for Azerbaijanis waiting in Dagestan has been cancelled. More than 600 people stay in the border area, the Derbent District Administration has informed.
The "Caucasian Knot" has reported that a temporary accommodation centre (TAC) was set up near the Dagestani village of Kullar for the citizens of Azerbaijan who could not get home because of the borders closed due to coronavirus.
The fact that on September 29 another group of Azerbaijani citizens was not sent to Azerbaijan from the border territory was reported to the "Caucasian Knot" correspondent by an employee of the Main Directorate for Dagestan of the Russian Ministry for Emergencies (MfE).
"The camp [is designed] for 360 people; 350 people are currently housed there, including 13 women and 2 children. The today's dispatch has failed due to the situation in the territory of Azerbaijan," the employee has stated.
At the moment, there are over 600 people in the border area, a source from the press service of the Derbent District Administration told the "Caucasian Knot" correspondent.
This article was originally published on the Russian page of 24/7 Internet agency 'Caucasian Knot' on September 29, 2020 at 07:15 pm MSK. To access the full text of the article, click here.
Author: Ilyas Kapiev Source: CK correspondent