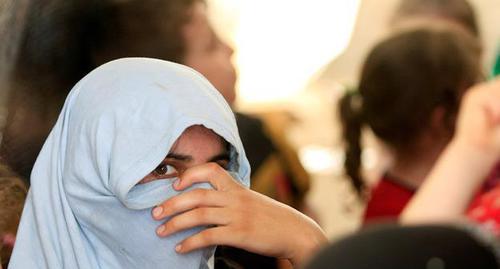 30 September 2020, 19:10
Rights defenders see no effect in investigation into genital mutilation case in Ingushetia
An investigation into a case on the genital mutilation procedure, to which a girl from Chechnya was subjected in Magas, is proceeding too slowly, and, moreover, a number of mistakes have been made during the investigation, activists from the project "Legal Initiative" state.
The "Caucasian Knot" has reported that in May, a woman from Chechnya succeeding in seeking an institution of a criminal case in Ingushetia on the deliberate infliction of slight harm to the health of her nine-year-old daughter.
The woman claims that her former husband, without her knowledge, took the girl to a clinic in Magas, where the girl had been subjected to female circumcision surgery.
On September 29, the online conference entitled "Problem of genital mutilation used against girls and women in Russia. What did people learn from the case with the Ingush girl?" was held in Moscow. The conference became the first such event in Russia on the mentioned problem.
The girl was subjected to a genital mutilation procedure in Magas without the consent of her mother, despite the fact that the woman was the only child's legal representative, Tatiana Savvina, a senior lawyer of the "Legal Initiative" project, told the conference participants. According to her, the girl was accompanied by her father's new wife, whose documents were not checked in the clinic.
The Magas clinic, where the incident happened, has been providing services of female circumcision procedures for several years already. The lawyers managed to find the old version of the clinic's price list valid in June 2016, where circumcision for girls was included in the list of procedures.
The lawyer was sceptical about the prospects of the criminal case. According to Tatiana Savvina, investigators made a number of mistakes and work too slowly.
Not all the necessary examinations were carried out regarding the infliction of harm to health, Tatiana Savvina notes. Furthermore, an inspection of the place of the incident was carried out only two months after the institution of a criminal case. Only a doctor was involved in the case as a suspect, while the investigators refused to start criminal proceedings against the clinic where the girl had underwent the genital mutilation procedure. Tatiana Savvina points out that the investigators approached the case in an extremely formal way: they examined only the clinic's materials for 2020 and concluded thereon that the clinic did not provide any pediatric gynecology services at all.
"Thus, the case is most likely to get further into the European Court of Human Rights (ECtHR)," Tatiana Savvina summed up.
This article was originally published on the Russian page of 24/7 Internet agency 'Caucasian Knot' on September 30, 2020 at 11:33 am MSK. To access the full text of the article, click here.
Author: Semyon Charny Source: CK correspondent