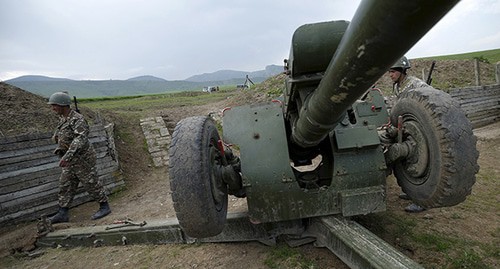 03 October 2020, 08:35
"Novaya Gazeta": Middle East residents go to fight for Armenia and Azerbaijan
Turkey is recruiting mercenaries in Syria for participating in the Nagorno-Karabakh conflict on the side of Azerbaijan, ethnic Armenians from Syria and Lebanon are also going to the combat zone, says the article by Vadikh El-Khayek "Mercenaries Enter the Battle" published on October 2 by the "Novaya Gazeta" newspaper.
A newspaper source told that an office was opened in Idlib, Syria, on the border with Turkey, where people who want to go to fight in the Nagorno-Karabakh conflict zone are registered. A man who fights in the Free Syrian Army, which closely cooperates with Turkey, is engaged in registration. Basically, people who have no money to support their families come and get registered there.
According to the source, from 700 to 1000 militants have already been sent to Azerbaijan to protect gas and oil pipelines.
A mercenary has a monthly salary of USD 1800, and he is guaranteed a Turkish citizenship.
Syrian Armenians and members of the Armenian Diaspora in Lebanon also go to Nagorno-Karabakh, but to participate in the war on the other side. According to classified information from the Lebanese Ministry of Internal Affairs (MIA), over the past few days, about 500 ethnic Armenians have left the country for this purpose, says the publication of the "Novaya Gazeta".
This article was originally published on the Russian page of 24/7 Internet agency 'Caucasian Knot' on October 2, 2020 at 09:51 pm MSK. To access the full text of the article, click here.