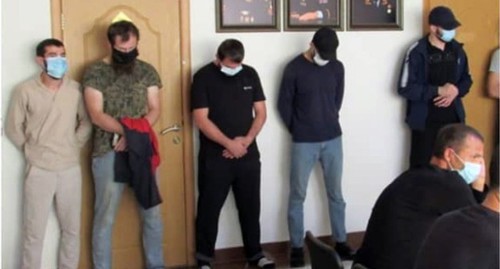 05 October 2020, 17:40
Residents of Chechnya criticize law enforcers for publicly reprimanding detainees
The Urus-Martan ROVD (District Interior Division) of Chechnya has circulated a record of a talk with those detained for using narcotic drugs and driving while intoxicated. The public reprimand and invitation of violators' relatives to record prophylactic conversations caused misunderstanding among Instagram users.
Chechen law enforcers are regularly publicly scolding local residents for various violations. Thus, on September 22, the Urus-Martan ROVD forced detainees to repent of using drugs and driving while drunk.
"There is a law; and everyone should respond for breaching it, including the parents who are responsible for raising their children. Relatives have promised to educate their family members in order to prevent such actions in the future. The detainees themselves have sincerely repented of their deeds and gave their word to improve," says the post on the page of the Urus-Martan ROVD on the Instagram.
The residents of Chechnya, interviewed by the "Caucasian Knot" correspondent, treat it inadmissible to involve relatives in public reprimanding of the detained violators.
"If a person has violated something, then let him answer according to the law. Why should they arrange public reprimands, and even invite the elderly?" Maret has asked.
"From the viewpoint of the law, relatives should not be held responsible for the offenses committed by adult family members. In our country, close relatives of violators – fathers, elder brothers and uncles – are attracted to actions with public reprimanding of offenders," Lechi has noted.
This article was originally published on the Russian page of 24/7 Internet agency 'Caucasian Knot' on October 5, 2020 at 02:47 am MSK. To access the full text of the article, click here.
Source: CK correspondent