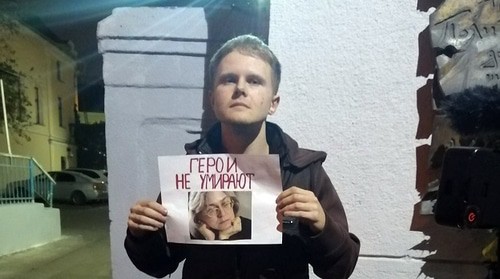 08 October 2020, 17:51
Commemoration participants call Politkovskaya example of fighter for justice
Anna Politkovskaya was a bright example of an honest journalist who did not break down under authorities' pressure, those who took part in the memorial action in Moscow have stated. In a year, the statute of limitations for her murder case will expire; and the still unfound customer will remain unpunished, Dmitry Muratov, the editor-in-chief of the "Novaya Gazeta" newspaper, has stated.
The "Caucasian Knot" has reported that on the 14th anniversary of Anna Politkovskaya's murder, an action in her memory was held in Moscow. Also, the Sakharov Centre showed Marina Goldovskaya's film "The Bitter Taste of Freedom". The film has perfectly revealed Anna's personality, spectators have noted.
Anna Politkovskaya, known for her articles on the war and human rights violations in Chechnya, was shot dead in Moscow on October 7, 2006.
Yana Fyodorova, the organizer of the commemoration, said that she was strongly influenced by the news of Politkovskaya's murder, although she was a child at that time. "It was terrible for me that a person who writes something contrary to authorities was assassinated in the centre of Moscow," she said.
According to Danil, a participant in the action, the murder of Politkovskaya reminded him of the murder of journalist Vladislav Listyev committed in 1994.
Fyodor, another participant in the memorial action, considers Politkovskaya "one of the most courageous women in Russian history."
Instagram users published posts in memory of the journalist, in which they emphasized the importance of her work for the people.
This article was originally published on the Russian page of 24/7 Internet agency 'Caucasian Knot' on October 8, 2020 at 01:53 am MSK. To access the full text of the article, click here.
Author: Semyon Charny Source: CK correspondent