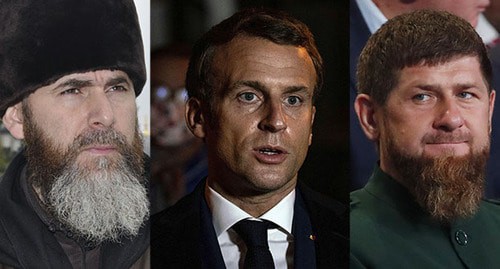 27 October 2020, 22:59
Kadyrov and Mezhiev compare Macron to a terrorist
The French president's decision to create "enlightened Islam" in the country and his refusal to condemn the cartoons of the Prophet Muhammad provoked sharp criticism from the authorities of Chechnya. Ramzan Kadyrov accused Emmanuel Macron of fomenting extremist ideas, and Chechen Mufti Salakh Mezhiev declared the French president "the terrorist number one."
The "Caucasian Knot" has reported that on October 16, Samuel Paty, a teacher of history and geography, was beheaded in a Paris suburb. At a lesson on the freedom of speech, the teacher had shown caricatures on Prophet Muhammad from the "Charlie Hebdo" magazine to his pupils. The alleged killer was shot dead by policemen and identified as Abdulak Anzorov, 18, a Russian citizen of Chechen origin.
Today, Chechen leader Ramzan Kadyrov has sharply criticized French President Emmanuel Macron and compared him to a terrorist. "The French authorities support the publication of cartoons of the Prophet Muhammad. This statement was voiced by President Emmanuel Macron. He calls the actions which are offensive to nearly two billion Muslims of the world 'the freedom of speech.' Moreover, Macron has decided that he will change their religion and create 'enlightened Islam in France.' I do not know what state Macron was in when he was making the above statement, but the consequences of such a reaction can be very tragic. The French president himself is now becoming like a terrorist. By supporting provocations, he covertly calls on Muslims to commit crimes," the leader of Chechnya wrote on his page on the social network "VKontakte".
Salakh Mezhiev, Mufti of Chechnya, also criticized Macron, the press service of the Spiritual Administration of Muslim (SAM) of Chechnya reported on October 26.
"Macron issued an order to hang cartoons of the Prophet Muhammad, the greatest of people, on all government buildings in the country. This is not just an irresponsible act that goes beyond all moral and ethical boundaries, but a well-planned attack on Islam and the entire Muslim community, which could result in new human victims. Macron, you are the number one terrorist in the world," said Salakh Mezhiev as quoted in a post on the Chechen Muftiate's page on Instagram.
This article was originally published on the Russian page of 24/7 Internet agency 'Caucasian Knot' on October 27, 2020 at 03:59 pm MSK. To access the full text of the article, click here.