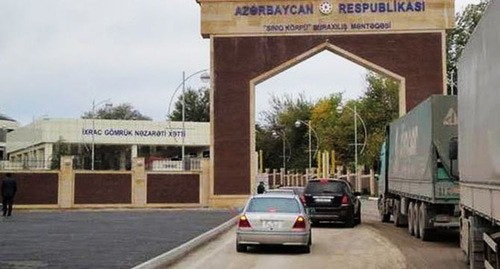 24 November 2020, 22:11
Azerbaijan-Russian border completely closed until December 4
About 250 Azerbaijani citizens stay at the "Ogonyok" camp in the Kaitag District of Dagestan and await their return home. The tent camp near the village of Kullar was dismantled with the onset of cold weather.
The "Caucasian Knot" has reported that for the Azerbaijani citizens, who failed to return to their country due to the borders closed because of coronavirus, a temporary accommodation centre (TAC) was set up near the Dagestani village of Kullar. The camp residents were sent home in groups every week, but due to the hostilities in the Karabakh conflict zone on September 29, sending of another group was cancelled. On October 20, the dispatch of Azerbaijanis home was resumed.
Today, Garun Davydov, First Deputy Minister for National Policy and Religious Affairs of Dagestan, has reported that on Friday, November 20, the last group of Azerbaijani citizens was taken from Dagestan to the state border. The group included about 110 people, mainly women and children, as well as those suffering from chronic diseases.
According to Garun Davydov, it is still not known exactly when the next group of Azerbaijani citizens will be sent home, since, according to the preliminary information, the Azerbaijani side does not intend to open the state border until December 4. "The borders are still closed in both directions. The Russian citizens who stay in Azerbaijan cannot enter their homeland. There are now about 1000 of them. Passage of residents of Azerbaijan across the border has also been temporarily suspended," Garun Davydov told the "Caucasian Knot" correspondent.
The tent camp, which was set up in this May for the Azerbaijani citizens awaiting departure to their homeland, has already been dismantled, and people have been transported to the territory of the Kaitag District, the "Caucasian Knot" correspondent has learned from the press service of the Derbent District administration.
As of November 23, there were 241 Azerbaijani citizens staying at the "Ogonyok" children's health camp in the Kaitag District and awaiting their return home, while 20 officials representing the authorities of Azerbaijan also stayed at the camp, the press service of the Derbent District administration reported.
This article was originally published on the Russian page of 24/7 Internet agency 'Caucasian Knot' on November 24, 2020 at 06:40 pm MSK. To access the full text of the article, click here.
Author: Rasul Magomedov Source: CK correspondent