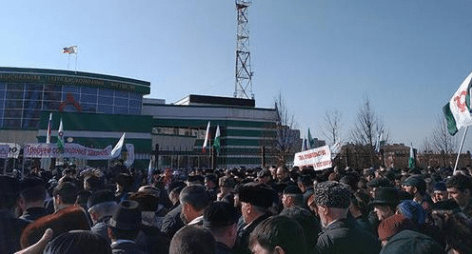 25 November 2020, 08:24
Court agrees to openly try Ingush activists
The Kislovodsk City Court has decided to hold only some sessions of the trial of Ingush activists accused of creating an extremist community behind closed doors.
The "Caucasian Knot" has reported that on March 26, 2019, residents of Ingushetia extended a rally in Magas without a sanction from the authorities. After that, clashes occurred between the protestors and the police at the rally. By the end of September, the verdicts to 25 out of 44 activists accused of involvement in the clashes with the law enforcers came into force.
The Russian Supreme Court (SC) has ordered to consider the case of seven protest leaders, who, unlike ordinary participants in the rally, are accused of creating an extremist community, in the Stavropol Territory. Their defence had opposed changing the case jurisdiction.
The first court session was held on November 24, at the Kislovodsk City Court, Bilan Dzugaev, the advocate for Zarifa Sautieva, told the "Caucasian Knot" correspondent.
"The prosecutor has put forward a motion to hold the trial behind closed doors, but the defence had opposed this. The court has ruled that the trial will be open, except for some sessions; for example, those, in which experts will take part," the advocate said, adding that the court granted the defence's motion for video recording and photographing in the courtroom.
This article was originally published on the Russian page of 24/7 Internet agency 'Caucasian Knot' on November 24, 2020 at 11:30 pm MSK. To access the full text of the article, click here.