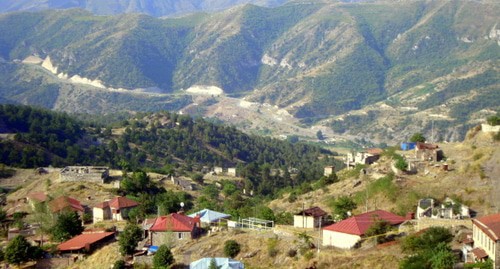 01 December 2020, 11:16
Azerbaijan takes control of Lachin after 28 years
On December 1, the Lachin District came under the control of Azerbaijani troops, with the exception of a five-kilometre-wide corridor that ensures Nagorno-Karabakh's communication with Armenia. According to Baku, the district suffered a huge damage over the years while it remained outside the control of Azerbaijani authorities.
The "Caucasian Knot" has reported that on November 30, residents of Berdzor (Lachin) left the city, although the Karabakh authorities have no information about the city status in the light of the transfer of the Lachin District to Azerbaijan.
Today, the Azerbaijani Army has entered the Lachin District in accordance with the trilateral agreement signed by the leaders of Azerbaijan, Russia and Armenia, the "oxu.az" reports. This is the last of the three districts that Azerbaijan should occupy according to the truce.
The Armenian party claims that the local residents were given very little time to leave Berdzor. Thus, Akop Chakharyan, a former adviser to the Prime Minister, wrote on the Facebook that an order was received to stop the evacuation of people, since "Berdzor and two villages remain under our control." However, on November 30, as he noted, information was again received that residents should leave the city and the nearby villages.
This article was originally published on the Russian page of 24/7 Internet agency 'Caucasian Knot' on December 1, 2020 at 02:59 am MSK. To access the full text of the article, click here.