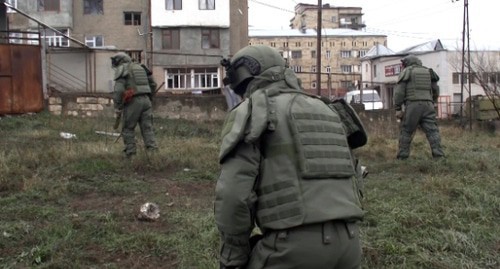 04 December 2020, 11:46
Experts argue about timing of demining Nagorno-Karabakh
The demining of the territories after the fighting in Karabakh may take a year, Alexander Perendjiev, a political analyst, has suggested. In his turn, Vasily Dandykin believes that Russian peacemakers, due to their experience, will cope with demining in a few months.
The "Caucasian Knot" has reported that on November 28, four citizens of Azerbaijan perished in a mine explosion in the village of Ashagy Seidakhmedli in the Gadrut District. On December 2, in Stepanakert, Russian militaries defused about 100 ordnances and cleared a school of explosives, the Russian Ministry of Defence (MoD) has reported.
The casualties were relatives, who were travelling to look at their native village, the press service of the General Prosecutor's Office (GPO) of Azerbaijan has explained.
"On the Azerbaijani side, all the rules were observed. As for the Armenian one, if we identify the specific persons who gave the order for mining and executed it, we'll put them on the international wanted list," the GPO has stated.
Andrei Koshkin, an expert from the Association of Military Political Analysts, has stressed that demining is a very long and difficult process.
In the opinion of Vasily Dandykin, a military expert, Russian peacemakers will be the fastest to cope with the demining job – in a few months. According to his calculations, Azerbaijani sappers will need more time – until about the end of 2021 – due to less experience in neutralizing mines.
This article was originally published on the Russian page of 24/7 Internet agency 'Caucasian Knot' on December 4, 2020 at 07:52 am MSK. To access the full text of the article, click here.
Author: Semyon Charny Source: CK correspondent