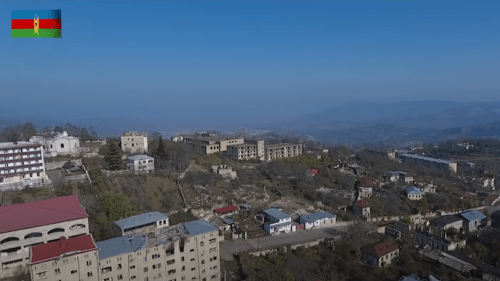 27 December 2020, 12:07
Despite absence of highway from Fizuli, reconstruction of Shusha begins
Azerbaijan will need up to two years to restore the city of Shusha, the analysts interviewed by the "Caucasian Knot" believe. The necessary materials and equipment are already being transported along the unfinished road; the infrastructure is being established in the city.
The "Caucasian Knot" has reported that the capture of Shusha in November was a key event in the autumn aggravation of the Karabakh conflict – after that, Azerbaijani troops found themselves in close proximity to the capital of the unrecognized Nagorno-Karabakh Republic, the city of Stepanakert. With the loss of Shushi, Armenia agreed to conclude a peace agreement, according to which the Karabakh authorities lost control over two-thirds of their territory.
Shusha is quickly restored and improved, Avaz Gasanov, the head of the Society for Humanitarian Studies, told the "Caucasian Knot" correspondent. "The city has already launched a bakery and opened a confectionery workshop with a store; a cellular telephone connection has been provided, and state television has started its broadcasting. A branch of the International Bank of Azerbaijan will open in the coming days," he has added.
Besides, local offices of government agencies are being opened, including ministries and departments. "Mostly natives of Shusha are employed in these structures – thus, they return to their home city," Mr Gasanov has noted.
The delivery of materials for the restoration of the city is carried out along a road that has not yet been completed, said Togrul Djuvarly, an economic observer of the "Turan" News Agency.
"The road to Shusha was laid through the forests very quickly. True, it is still unpaved and movement along it is very difficult and takes a lot of time. But the most necessary things can already be delivered to the city," Mr Djuvarly has added.
This article was originally published on the Russian page of 24/7 Internet agency 'Caucasian Knot' on December 26, 2020 at 05:23 pm MSK. To access the full text of the article, click here.
Author: Faik Medzhid Source: CK correspondent