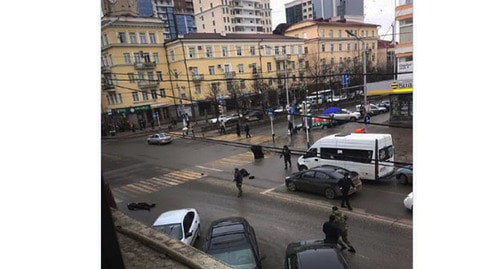 28 December 2020, 23:00
Shootout in Chechnya becomes fifth armed incident since early 2020
According to the calculations run by the "Caucasian Knot", a shootout between law enforcers and suspected militants in Grozny became the third armed incident in Chechnya in December and the fifth armed incident since the early 2020.
Today, two inspectors of the patrol-and-post service (known as PPS) and one of the attackers were killed in a shootout in Grozny, sources report.
Earlier, on December 17, law enforcers shot and killed two persons at a road-and-patrol service (known as DPS) checkpoint in Kurchaloi. According to the Chechen Ministry of Internal Affairs (MIA), law enforcers stopped a car to check IDs of a driver and passengers. The attackers threw an improvised explosive device (IED) at the law enforcers and opened fire.
The day before, a special operation was conducted in the Achkhoi-Martan District of Chechnya. Chechen leader Ramzan Kadyrov reported that suspected militant Kazbek Baidulaev had been killed during the special operation. When offered to surrender, the suspect tried to throw a grenade and was killed by return fire. Meanwhile, the name of Kazbek Baidulaev had already been mentioned among the suspected militants killed after the special operation conducted in the Sernovodsky District on October 11, together with suspected militant Rustam Borchashvili. Experts call in question the information concerning the special operations in Chechnya and note that the law enforcement bodies are to explain the mistake with the identification of Kazbek Baidulaev.
On October 13, in Grozny, law enforcers cordoned off a house. According to their information, militants found a shelter in the house. A shootout occurred, in which four of the suspects, two fighters of the National Guard of Russia, and one policeman were killed.
This article was originally published on the Russian page of 24/7 Internet agency 'Caucasian Knot' on December 28, 2020 at 03:58 pm MSK. To access the full text of the article, click here.