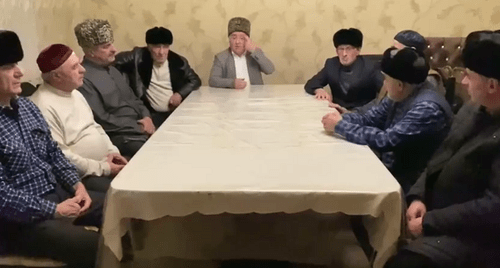 31 December 2020, 10:41
Ingush teip renounces claims against Chechen authorities
Members of the Ingush teips (family clans) of Timurzievs and Sultygovs have posted their second video about the natives of Ingushetia killed in Grozny. According to their version, they watched the video from the venue, which clearly shows the actions of Khasan and Khusein, admitted that they were wrong and expressed condolences to the family of the killed law enforcer.
The "Caucasian Knot" has reported that members of the above two Ingush teips have demanded from Ramzan Kadyrov to prove that the natives of Ingushetia, who were killed by law enforcers in Grozny on December 28, were terrorists. Magomed Daudov, Speaker of the Chechen Parliament, appointed a meeting with them.
According to a member of the Sultygov teip, they were presented with a video record from the surveillance cameras showing the actions of Khasan and Khusein. Besides, according to the teip member's message on the Facebook, they were informed that, after the conversation, the brothers' relatives were allowed to go home.
This article was originally published on the Russian page of 24/7 Internet agency 'Caucasian Knot' on December 31, 2020 at 05:38 am MSK. To access the full text of the article, click here.