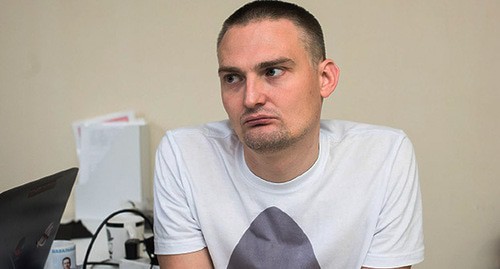 22 January 2021, 22:29
Lawyer Mikhail Benyash detained in case on organization of a rally
The police drew a protocol against Krasnodar lawyer Mikhail Benyash on the organization of an unsanctioned action. The lawyer himself treated the above as a law enforcers' attempt to deprive local Alexei Navalny's supporters of legal aid, since the lawyer promised to defend them.
The "Caucasian Knot" has reported that today, law enforcers came to search an apartment rented by lawyer Mikhail Benyash. Then, they took him to a police station in Krasnodar to question him in a case on embezzlement instituted against an owner of the apartment.
After the questioning, the policemen drew up an administrative protocol against Mikhail Benyash under Part 2 of Article 20.2 of the Code of Administrative Offenses of the Russian Federation ("Violation of the procedure for holding a public event"), the "Caucasian Knot" correspondent was informed by Felix Vertegel, an advocate of Mikhail Benyash.
"The reason for the administrative proceedings is a post in which Mikhail Benyash asks his colleagues to defend the activists detained for a peaceful protest action, regardless of their political views," Felix Vertegel notes. Mikhail Benyash himself promised to provide legal assistance to everyone who would be detained in Krasnodar on January 23, if there would be any.
Mikhail Benyash told the "Caucasian Knot" correspondent that he was placed in custody pending trial. The lawyer thinks he will be arrested. Mikhail Benyash considered his detention as the law enforcers' attempt to deprive potential detainees of legal assistance.
This article was originally published on the Russian page of 24/7 Internet agency 'Caucasian Knot' on January 22, 2021 at 05:36 pm MSK. To access the full text of the article, click here.
Author: Anna Gritsevich Source: CK correspondent