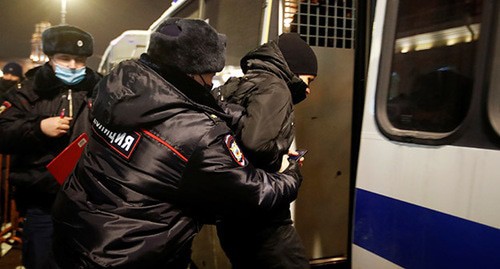 23 January 2021, 08:33
Police warn Stavropol activists about punishment for unsanctioned actions
Activists of the Stavropol Alexei Navalny's office and local farmers are preparing solo pickets, despite the police's warnings and detentions of Alexei's supporters.
The "Caucasian Knot" has reported that in Southern Russia, activists claimed pressure from the law enforcement bodies in connection with the planned actions in support of Alexei Navalny.
On January 17, Russian opposition leader Alexei Navalny, who flew from Berlin to Moscow, was detained at the Sheremetyevo Airport, and on January 18, the court ruled to keep him in custody until February 15, 2021.
After Navalny's arrest, the FBK has released an investigation about Putin's palace near the city of Gelendjik, Krasnodar Territory, the largest private house in Russia, which is being built for money of state-owned companies.
The "Caucasian Knot" correspondent was informed at the Stavropol Navalny's office that the office staff had received warnings about the inadmissibility of violating Article 20.2 of the Code of Administrative Offences on holding mass actions. According to one of activists, she was not found at home and was warned about the inadmissibility of holding actions by phone. "They called me and warned verbally. Same calls were made to many people, even those who have nothing to do with Navalny. <...> Apparently the police have some lists of activists; besides, they monitor friends in social media. Then they send letters," the activist told the "Caucasian Knot" correspondent.
According to her story, despite the warnings, actions in the form of solo pickets are planned in central Stavropol.
Mikhail Shevchenko, a Stavropol farmer, also intends holding a solo pickets like other farmers-activists. "I'm going to go out; my comrades are too. I'll stand alone at my solo picket for two hours in the city centre. I've made a poster reading: "Freedom to Navalny!" Mr Shevchenko told the "Caucasian Knot" correspondent.
This article was originally published on the Russian page of 24/7 Internet agency 'Caucasian Knot' on January 22, 2021 at 08:11 pm MSK. To access the full text of the article, click here.
Author: Oleg Krasnov Source: CK correspondent