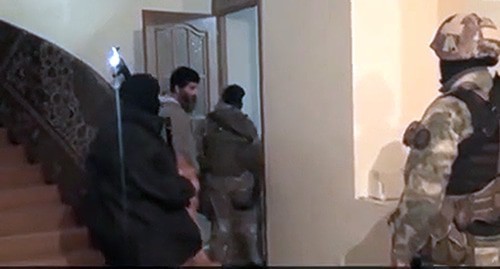 22 February 2021, 22:47
Court releases Dagestani resident Bagavudin Omarov sentenced in case on extremism
A court found Bagavudin Omarov, a native of Makhachkala, guilty of organizing an extremist organization and sentenced him to three years of imprisonment. However, the time spent under arrest was taken into account, and the defendant was released after the verdict was pronounced. Bagavudin Omarov pleaded guilty.
The "Caucasian Knot" has reported that 47-year-old Bagavudin Omarov was detained in November 2018. Ten people detained together with him were involved as witnesses in a case on organization of an extremist community. In January 2020, six of them became defendants in a case on a unit of the extremist organization "At-Takfir wal-Hijra"*, banned in Russia. The Human Rights Centre (HRC) "Memorial"** recognized Bagavudin Omarov as a political prisoner. The man claimed that he had signed a confession after threats of violence.
Earlier, Bagavudin Omarov has claimed that he incriminated himself during the investigation under the threat of torture and emphasized that he first heard about the existence of the organization "At-Takfir wal-Hijra"* from an investigator. However, at a court hearing held on February 5, the man pleaded guilty.
"I, as a Muslim, professed my religion and did not realize that I was breaking the law. I regret what I had done and ask you not to deprive me of my freedom, since I am to take care of a dependent family, including minor children," Bagavudin Omarov said in his final speech.
* The religious association "At-Takfir wal-Hijra" (Atonement and Exodus) was declared extremist by the decision pronounced on September 15, 2010, by the Supreme Court (SC) of the Russian Federation, and activities of the "At-Takfir wal-Hijra" in Russia are prohibited.
** The HRC "Memorial" is recognized in the Russian Federation as a foreign agent.
This article was originally published on the Russian page of 24/7 Internet agency 'Caucasian Knot' on February 22, 2021 at 05:25 pm MSK. To access the full text of the article, click here.