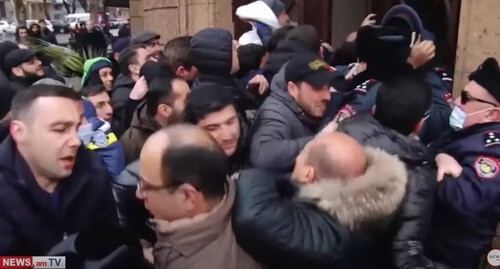 01 March 2021, 20:49
In Yerevan, activists burst into building of district administration
Dozens of Nikol Pashinyan's opponents entered the administration building of the Kentron District of Yerevan, despite attempts by the police to stop them. The activists demanded from the directors of the district administration not to force public sector employees to participate in a pro-government rally.
The "Caucasian Knot" has reported that the opposition accused the authorities of using the administrative resource in an attempt to ensure the mass nature of the rally scheduled for today in the centre of Yerevan.
The situation in Yerevan worsened after on February 25, the General Staff of the Armenian Armed Forces demanded Nikol Pashinyan's resignation. This was preceded by Pashinyan's dismissal of Tiran Khachatryan, a Deputy Chief of the General Staff, who has treated the Premier's words about the poor combat capability of the missile systems purchased from Russia and the Premier's demand to dismiss Onik Gasparyan, the Chief of the General Staff, as "frivolous".
In Yerevan, opposition supporters broke into the administration building of Kentron, the Central District of the Armenian capital. Several dozen activists, including Hayk Mamidjanyan, the leader of the youth wing of the Republican Party, demanded from the municipal authorities not to force their employees to participate in the rally initiated by Nikol Pashinyan.
For several minutes, the activists were chanting such slogans as "Nikol the traitor" and "Armenia without Nikol". Then they left the building, the "Sputnik Armenia" reported.
From the administration of the Central District of Yerevan, the activists headed towards Marshal Bagramyan Avenue. They were loudly calling on city residents to join the today's opposition rally.
This article was originally published on the Russian page of 24/7 Internet agency 'Caucasian Knot' on March 1, 2021 at 03:10 pm MSK. To access the full text of the article, click here.