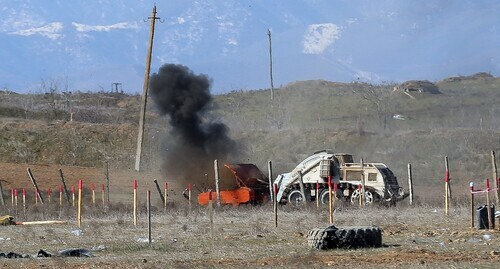 22 March 2021, 22:55
Nagorno-Karabakh announces names of 192 killed soldiers and officers
The Ministry of Defence (MoD) of Nagorno-Karabakh released a list with 192 names of the dead soldiers and officers. The total number of casualties of the Defence Army increased to 2652. The search for dead bodies and remains at the place of the combat actions has been suspended, Nagorno-Karabakh Ministry for Emergencies (MfE) reports.
The "Caucasian Knot" has reported that on March 20, Armenian Prime Minister Nikol Pashinyan announced that 3250 people from the Armenian side were killed during the combat actions in Karabakh.
According to the calculations run in December 2020 by a blogger of the "Caucasian Knot", the losses of both sides during the escalation of the conflict in Karabakh are approximately equal, and the total death toll will amount to approximately 10,300 people.
The oldest of the killed military personnel, whose names were included in the list of the MoD of Nagorno-Karabakh, was born in 1963, while several of the youngest were born in 2002.
On March 2, the Ministry of Defence of Azerbaijan reported about 2881 identified bodies of soldiers and officers killed during the combat actions in Karabakh.
This article was originally published on the Russian page of 24/7 Internet agency 'Caucasian Knot' on March 22, 2021 at 03:18 pm MSK. To access the full text of the article, click here.