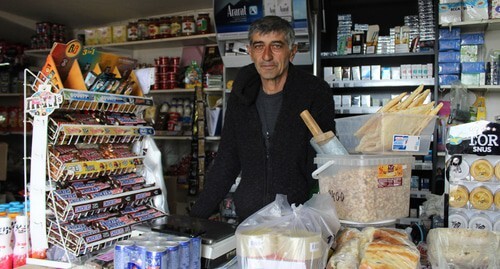 23 March 2021, 09:53
Berdzor residents demand security guarantees
About 150 people returned to Berdzor after the autumn war, the administration of the Kashatag District of Nagorno-Karabakh has reported. In order for the rest to come to the city, it is necessary to increase the volume of social help and provide security guarantees, local residents believe.
The "Caucasian Knot" has reported that on December 1, 2020, the Azerbaijani Army took control over the Lachin District (the Armenian name is Kashatag District), with the exception of the corridor for communication between Nagorno-Karabakh and Armenia. The Armenians who remained in the towns and villages of the Lachin Corridor stated that they did not feel safe.
Musheg Alaverdyan, the head of the Kashatag District Administration, has noted that 2200 people lived in Berdzor before the war. The population was mainly engaged in agriculture and cattle breeding.
Narek Alexanyan, Mayor of Berdzor, said that during the shelling of the city six houses were destroyed and several more were damaged.
The owner of an outlet in Berdzor believes that "authorities are indifferent to the issue of returning residents to the city."
Sapet Asatryan returned to Berdzor in late last November. According to her story, "after the war, life in Berdzor got frozen." She said that before the war she worked in a pharmacy, but now she is unemployed, "since the pharmacies don't work; and the hospital building has been transferred to peacemakers."
Akop Terzyan, a resident of Berdzor, said that during the war windows and doors were broken out in the house where he lived with his family. The city authorities did not announce any possibility of repairing the house, he said.
This article was originally published on the Russian page of 24/7 Internet agency 'Caucasian Knot' on March 22, 2021 at 11:35 pm MSK. To access the full text of the article, click here.
Author: Alvard Grigoryan Source: CK correspondent