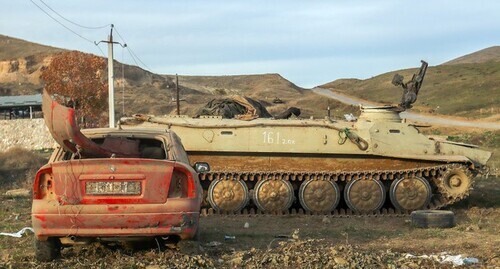 29 March 2021, 11:01
Armenian military doctors counted 11,000 wounded in battles for Nagorno-Karabakh
During the war in Nagorno-Karabakh, about 11,000 Armenian participants were wounded, 885 of them have received the disability status; and about 1500 others are under rehabilitation after their wounds, Armenian military doctors have counted.
The "Caucasian Knot" has reported that on February 18, the Armenia General Prosecutor's Office (GPO) announced that 9094 people were wounded in the battles for Nagorno-Karabakh.
In his turn, Gegam Pashikyan, Deputy Head of the Military Medical Directorate of the Armed Forces, said on March 28 that during the hostilities in Nagorno-Karabakh, about 11,000 military servicemen, policemen, border guards and volunteers were hospitalized with various wounds.
Most of them, as he said, were hospitalized with minor wounds. "35% had moderate wounds, 7% had serious ones, and 2% had extremely grave wounds," the "Sputnik-Armenia" has quoted Mr Pashikyan as saying.
Now, about 1500 servicemen are taking their treatment, being on rehabilitation leave, Saak Oganyan the head of the above Directorate, has added.
This article was originally published on the Russian page of 24/7 Internet agency 'Caucasian Knot' on March 28, 2021 at 07:30 pm MSK. To access the full text of the article, click here.