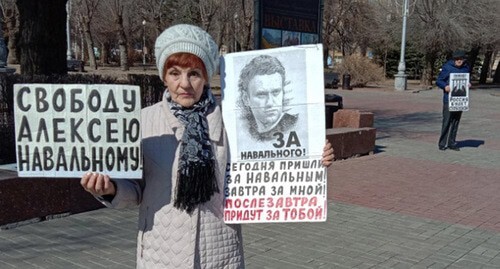 01 April 2021, 08:42
Volgograd picketers demand to set Navalny free
In Volgograd, three activists have held solo pickets supporting the "Strategy-31" campaign. The picketers called on to observe the norms of the Constitution and demanded to release Alexei Navalny.
The "Caucasian Knot" has reported that "Strategy-31" activists had earlier held solo pickets in Volgograd. They insist on observing Article 31 of the Russia Constitution on citizens' right to peaceful assemblies.
On March 31, in the Alley of Heroes in Volgograd, three solo pickets were held in defence of Article 31 of the Constitution and for the release of Alexei Navalny. The picketers spread posters along the curb: "Article 31 of the Constitution. Citizens of the Russian Federation have the right to assemble peacefully without weapons, hold meetings, rallies and demonstrations, marches and pickets", "Navalny is already here! Putin, leave by yourself", "Freedom to Alexei Navalny" and others.
Galina Tikhenko, a picketer, said that for 15 years, during which she has been fighting for constitutional rights, nothing has changed for the better in Russia. "They generally do not recognize Article 31 at all. A person is imprisoned not just for going to protest actions, but simply for thoughts and intentions. They have completely trampled the entire Constitution," the picketer was indignant.
This article was originally published on the Russian page of 24/7 Internet agency 'Caucasian Knot' on March 31, 2021 at 07:43 pm MSK. To access the full text of the article, click here.
Author: Vyacheslav Yaschenko Source: CK correspondent