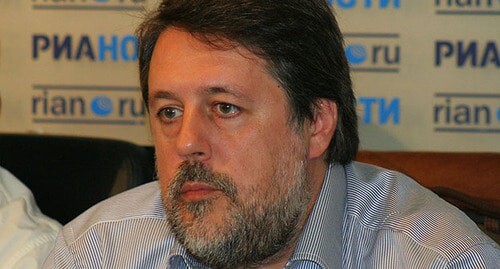 09 April 2021, 23:57
President of "Artdocfest" film festival attacked
Radicals attacked Vitaly Mansky, the president of the "Artdocfest" documentary film festival on the day of the closing ceremony, and the police allowed attackers to leave the cinema building, organizers of the event reported.
The "Caucasian Knot" has reported that the Russian "Artdocfest" documentary film festival had to cancel the screenings of two films about the Caucasus, including the film "Quiet Voice" about the fate of a Chechen gay and the film "Doazuv" (Border) about the protests in Ingushetia.
In Moscow, "the rules of life are being dictated from Chechnya," says the programme director of the "Artdocfest" festival in connection with the pressure on organizers.
People who attacked Vitaly Mansky came to the Moscow cinema "October" and said that they wanted to "talk" to the president of the film festival. Having found the director, they began to ask him provocative questions.
The visitors, whom the organizers of the festival called members of the SERB (South East Radical Block) grouping, were recording their actions on video.
"They asked Vitaly Mansky why he was 'throwing mud at Russia' and not showing 'the good side of the country'," the festival's Facebook page says.
The film director was attacked when he went to a separate room for an interview with journalists from a German TV Channel.
Vitaly Mansky himself said that there were "about six people" in a group, which attacked him.
This article was originally published on the Russian page of 24/7 Internet agency 'Caucasian Knot' on April 9, 2021 at 08:17 pm MSK. To access the full text of the article, click here.