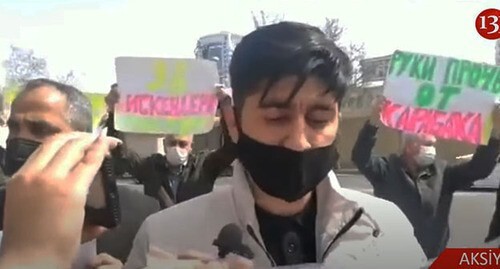 10 April 2021, 12:26
Baku protesters accuse Russia of striking Shusha with "Iskanders"
The fragments of "Iskander" missiles found in Shusha prove Russia's direct involvement in the Karabakh conflict on the side of Armenia; therefore, Moscow cannot be treated as an impartial mediator in the settlement thereof. This was stated by the picketers protesting in front of the Russian Embassy in Baku.
The "Caucasian Knot" has reported that in March, 2020, it became known that Azerbaijani sappers found fragments of "Iskander" in Shusha. On April 7, Azerbaijani activists demanded comments from Moscow about the use of "Iskander" missile complexes in the recent Karabakh war.
On Friday (April 9), the youth branch of the "Musavat" Party held a picket outside the Russian Embassy in Baku. The activists noted that the fragments of the missiles found in Shusha belong not to the export version of the "Iskander-E" complex, which Russia had officially supplied to Armenia, but to the "Iskander-M" ones, which are at Russia's exclusive disposal.
"The absence of clarifications casts doubt on the impartiality of the Russia's peacemaking mission, which also restricts Azerbaijanis' movement in its territory. We believe that Azerbaijan should regain control over all the sovereign territories in Nagorno-Karabakh," said Elman Guliev, the head of the organization.
Arif Gadjily, the head of the "Musavat" Party, believes that the action "once again drew public attention to the arbitrariness of the Russian armed forces in Azerbaijan." In his opinion, Russia "cannot be an impartial mediator in conflict settlement."
This article was originally published on the Russian page of 24/7 Internet agency 'Caucasian Knot' on April 9, 2021 at 06:06 pm MSK. To access the full text of the article, click here.
Author: Faik Medjid Source: CK correspondent