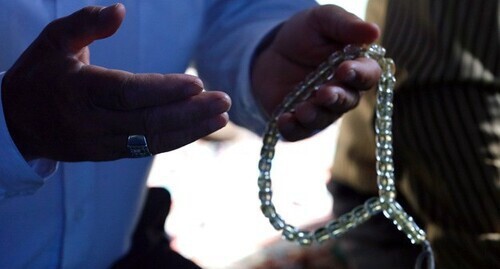 13 April 2021, 10:55
Muslims of Southern Russia welcome Ramadan
In the evening on April 12, believers in Southern Russia held collective prayers in mosques in honour of the onset of the holy month of Ramadan.
Ramadan is the ninth month of the Muslim lunar calendar, the month of fasting (as-saum), spiritual and moral cleansing, as well as strengthening faith and will. During Ramadan, Muslims must abstain from food and drink during daylight hours.
This year, the month of Ramadan starts on April 12 at sunset and ends on May 12, according to the website of the Russia's Spiritual Administration of Muslims (SAM). It should be noted that in a number of regions of Northern Caucasus, including Dagestan, local theologians often declare the start and end of Ramadan on the days different from those announced by the above SAM, relying in doing this on the appearance of the Moon in the sky.
The Dagestani Muftiate has congratulated residents of the republic on the start of Ramadan, noting that this year, the first day thereof falls on April 13.
The SAM of Kabardino-Balkaria has published congratulations on the start of Ramadan on its Instagram page. On the occasion of the month of Ramadan, the Cathedral Mosque in Nalchik has been opened after the renovation.
This year, Ingushetia has decided not to close mosques because of the pandemic, but sanitary and epidemiological restrictions will be observed, the "Ingushetia" newspaper has reported with reference to Magomed Kharsiev, the head of the division for monitoring interethnic and interfaith relations and the media of the republic's Ministry of Nationalities. Mr Kharsiev also said that charitable events and collective iftars (evening de-fasting) are planned in the republic during the holy month.
This article was originally published on the Russian page of 24/7 Internet agency 'Caucasian Knot' on April 13, 2021 at 00:38 am MSK. To access the full text of the article, click here.