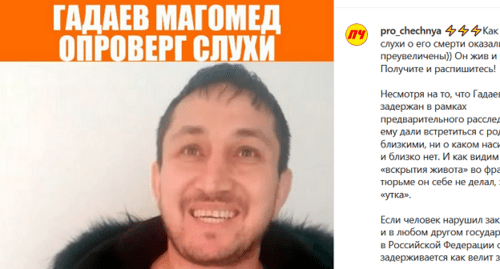 15 April 2021, 10:52
Chechnya: video with Magomed Gadaev released
In the videos posted in Chechen Instagram publics, Magomed Gadaev claims that he was not tortured or beaten up.
The "Caucasian Knot" has reported that on April 9, the 37-year-old Magomed Gadaev was deported from France to Russia despite his protest. Once at the police of the city of Novy Urengoy, he stated that he needed state protection, as his life was in danger. On April 11, the police of Novy Urengoy handed Magomed Gadaev over to Chechen law enforcers, who took him to Chechnya in connection with a criminal case on keeping weapons.
Magomed Gadaev, who left Russia in 2010, is a witness in a criminal case brought against Chechen law enforcers under the articles "Kidnapping" and "Exceeding Official Powers", which is still being investigated, the "Novaya Gazeta" newspaper reported earlier. In Chechnya, Gadaev had been kidnapped, kept at some Chechen power body, from where he managed to get out and go abroad.
 In the evening on April 14, a short video with Magomed Gadaev was posted by the Instagram community named pro_chechnya. The lengthy caption to the video clip states that Gadaev is "alive and healthy."
"Despite the fact that Gadaev has been detained under the preliminary investigation, he was allowed to meet his family and friends; any violence is out of question. And, as we can see, he had made no 'stomach opening' in a French prison," the caption asserts.
Tumso Abdurakhmanov, a Chechen blogger, has posted, in his Telegram channel, a translation of the dialogue into Russian. "A voice-over asks: 'Magomed, is that you? They say they can't find you; you've disappeared and killed. Are you Magomed Gadaev? Are you alive? Did anyone beat you up?' Magomed replies that everything is fine with him, he is alive and no one had beaten him up," Tumso has written.
The blogger is sure that these Gadaev's words are not true. "Yes, the expression in Magomed's face clearly shows how 'good' everything is with him," Tumso has concluded.
This article was originally published on the Russian page of 24/7 Internet agency 'Caucasian Knot' on April 14, 2021 at 11:57 pm MSK. To access the full text of the article, click here.